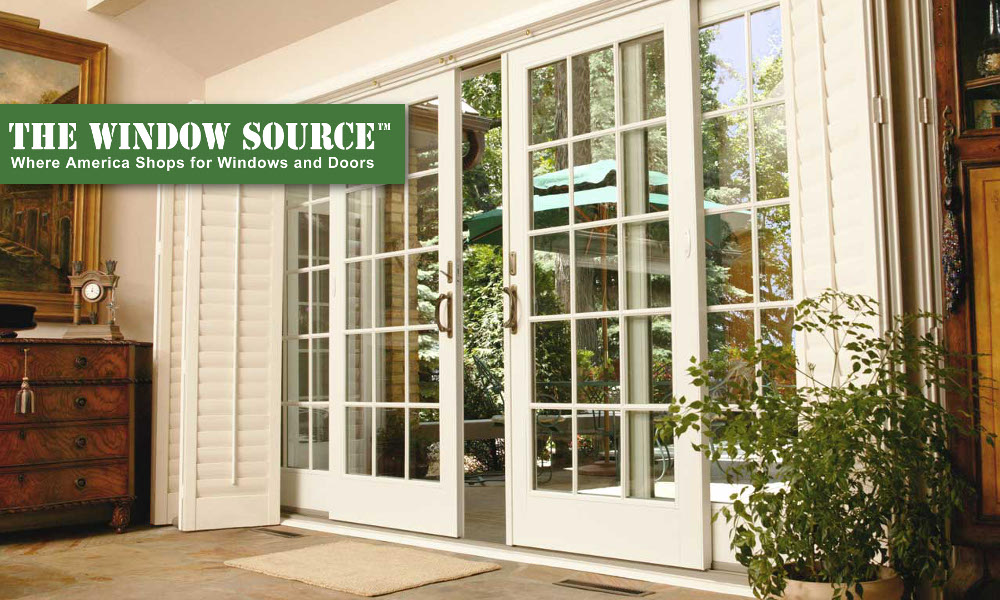 Are You Looking for Custom Sliding Patio Doors in Northern Indiana?
Welcome to The Window Source! The Window Source has over 35 locations across the US. We are experienced, professional, and family owned and operated.
If you are looking for beautiful and affordable custom patio doors in your Indiana home, then you came to the right place! The Window Source offers the highest quality replacement windows to our customers that are both affordable and energy efficient.
What is a sliding patio door?
Sliding patio doors also known as gliding doors and sliding glass doors are found in almost every home. They have a similar appearance but operate differently than a French door which swings in or outward. The operating glass panel of a sliding patio door glides on rollers on a track in the sill. This design provides great ventilation with the operating panel stored completely and safely out of the way when in the open position.
Sliding patio doors are not only functional, but they are also beautiful. They add an immense amount of light into any room and can quickly increase the value of your property.
Which types of sliding patio doors do we offer at The Window Source?
We offer many types of sliding patio doors at The Window Source. Our doors come in both double- and triple-panel models. All double- and triple-insulated glass panels come with code compliant tempered safety glass in all panes. The vinyl gliding panel frames are reinforced with heavy gauge steel to make your door strong and durable and features a full interlocking meeting rail.
Why do panes and insulation matter?
Double- and triple-insulated glass is very useful when choosing doors in a climate like Indiana. Indiana has beautiful Springs, hot Summers, and cold winters can get rough! If you are not purchasing the right quality doors and windows, then your home's utility bills will suffer. The difference is major. Walk by a good sliding door on a January day in Indiana and you shouldn't notice a thing. Walk by a poorly insulated one and you'll feel the winter drafting in.
Each door comes standard with white or beige handles. Optional brass, satin chrome or oil-rubbed handles are also available.
Our LowE/Argon glass upgrades ensure that your new door carries the Energy Star certification for the best energy savings and comfort all year round.
Our Sliding Patio Door Features
Multi-chambered vinyl frames
Fusion-welded sashes
Full vertical heavy gauge steel reinforcement in sash frames
Tempered safety glass in all panes
Warm edge spacer system
Meets Energy Star requirements with LowE/Argon
Over-sized tandem steel rollers provide easy gliding operation
Dual point opposing hook locking mortise
Optional dual-point lock and/or our optional foot bolt lock
Transferable Lifetime Warranty